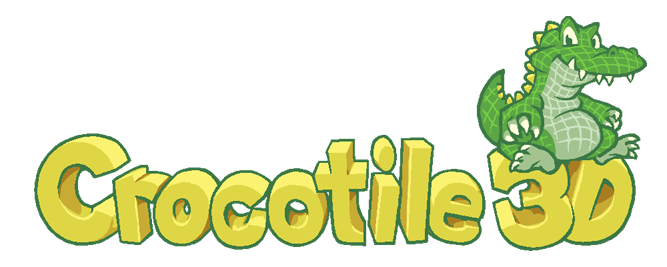 Crocotile 3D
v.2.2.2 (September 13, 2023)
Added: "Show/Hide All Bones" keybinding and option in Scene dropdown menu. To add binding go to Edit > Buttons > General > Hide/Show All Bones. Nested instances that are children of bones will still render.
Added: A setting to control whether the alpha value gets sampled when eyedropping colors from the tileset. This can be toggled in the Edit > Settings > Tileset section, or by selecting the Eyedropper tool and clicking the corresponding button at the top of the Painting panel.
Added: Keybinding and context-menu option for automatically checkmarking objects in the export objects panel that are currently selected. Go to Edit > Buttons > General > Export Selected Objects, to set a keybinding, or right-click a selected object in the 3d scene and choose Export Selected Objects.
Improved: Some inputs in Transform panel wouldn't apply if left blank. They now get set to 0 when the input box loses focus.
Improved: Removed the darkening effect behind light properties panel so that changes to the light can be seen clearly.
Fixed: Setting the Primitive brush to a Cylinder shape with a Y size of 0 would cause errors and prevent placing them into the scene.
Fixed: Loading color palettes would sometimes fail due to not correctly parsing the data.
Fixed: Importing .obj models would fail to load textures if the mtl file was named differently from the obj.
Fixed: Importing some .obj models with quads would fail to detect quads due to parsing the paths incorrectly.
Fixed: If Toggle Camera mode was enabled, keybindings "cardinal rotate left/right/etc" didn't work.
Fixed: Invalid filename characters such as / in object names would cause issues when exporting. These will be replaced with _ characters.
View more in the Changelog
Be sure to read the Howto, to learn all about what you can do!
Join the Discord server to get help from other Crocotile users!
Watch Youtube videos demonstrating Crocotile 3D!
Consider supporting via Patreon!
Files
Crocotile3D_v2.2.2_macOS.zip
120 MB
9 days ago
Crocotile3D_v2.2.2_linux32.tar.gz
168 MB
9 days ago
Crocotile3D_v2.2.2_linux64.tar.gz
155 MB
9 days ago
Crocotile3D_v2.2.2_ia32.zip
138 MB
9 days ago
Crocotile3D_v2.2.2_x64.zip
144 MB
9 days ago