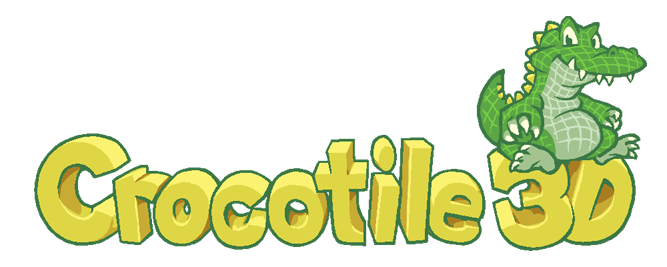 Crocotile 3D
v.2.1.9 (August 15, 2023)
Added: 'Select/Deselect Tile UVs' action to select/deselect uvs of the tile being hovered over. Tile must have its face selected first so that it can be displayed in the UVs panel. Key binding can be set by going to Edit > Buttons > Edit Mode > Select/Deselect Tile UVs.
Fixed: When undocking/docking side panel, the Primitive section in the transform panel wouldn't load for certain shapes.
Fixed: When pressing ~ key to focus the 3d viewport, it wouldn't work when an input box was currently focused.
Fixed: A shadow's Near value for Lights defaulted to 0.5 units, Causing lights to not cast shadows if surfaces are closer than 0.5 units to the light. The near/far values for each light is now definable in the light's properties panel, and the default Near value is now 0.01
Fixed: Hiding/showing/locking/reordering any object in the Scene panel would cause any selected instance to be in an unselected state even though it was highlighted. Also would occur when expanding or collapsing any Layer.
Fixed: Tilting the crosshair with Shift+T and T wouldn't work in Draw mode.
Fixed: Models that were exported without vertex colors would appear black when loaded in as a viewcube.
Fixed: When loading Crocotile via a project file in a directory, creating a new scene would just reload the project.
Fixed: There was an issue with UV Animation data being null in some case, causing other issues when removing tilesets.
View more in the Changelog
Be sure to read the Howto, to learn all about what you can do!
Join the Discord server to get help from other Crocotile users!
Watch Youtube videos demonstrating Crocotile 3D!
Consider supporting via Patreon!
Files
Crocotile3D_v2.1.9_macOS.zip
120 MB
38 days ago
Crocotile3D_v2.1.9_linux32.tar.gz
168 MB
38 days ago
Crocotile3D_v2.1.9_linux64.tar.gz
155 MB
38 days ago
Crocotile3D_v2.1.9_ia32.zip
138 MB
38 days ago
Crocotile3D_v2.1.9_x64.zip
144 MB
38 days ago