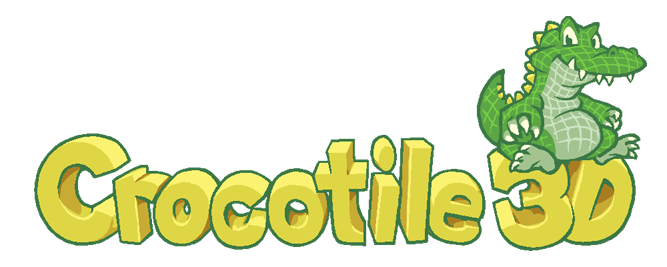 Crocotile 3D
v.2.1.6 (July 3, 2023)
Added: Options in Edit > Settings > Project, to specify whether to save/load uv tilesize/gridrounding for each project.
Added: The new render orthgraphic options are now available in the Render < Movie panel as well.
Added: Keybindings for opening Edit > Render > Camera, Spin Gif, and Movie panels. These can be assigned in the Edit > Buttons > General panel.
Changed: Exporting .gltf or .glb will now use a default Metallic material property of 0.0 and Roughness of 1.0, prior to this change they were 0.5 and 0.5 respectively.
Changed: Accumulated Time on a project is now updated every minute instead of 5 minutes so that it can be more accurate.
Fixed: Camera markers in Theatre panel wouldn't switch properly if newly added cameras were placed before previously added cameras.
Fixed: Rendering Orthographic cameras with Frustum Adjustment set to Viewport wouldn't render properly in some cases.
Fixed: When extruding, vertex colors weren't being copied to the new tiles.
View more in the Changelog
Be sure to read the Howto, to learn all about what you can do!
Join the Discord server to get help from other Crocotile users!
Watch Youtube videos demonstrating Crocotile 3D!
Consider supporting via Patreon!
Files
Crocotile3D_v2.1.6_macOS.zip
120 MB
81 days ago
Crocotile3D_v2.1.6_linux32.tar.gz
168 MB
81 days ago
Crocotile3D_v2.1.6_linux64.tar.gz
155 MB
81 days ago
Crocotile3D_v2.1.6_ia32.zip
138 MB
81 days ago
Crocotile3D_v2.1.6_x64.zip
144 MB
81 days ago