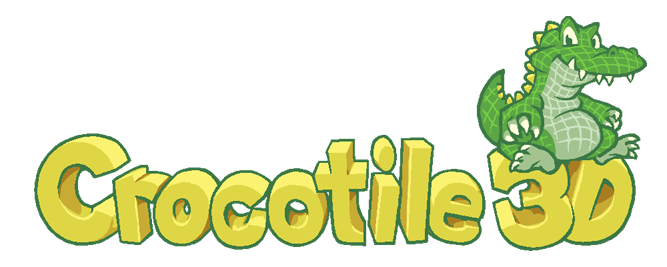 Crocotile 3D
Be sure to read the Howto, to learn all about what you can do!
Join the Discord server to get help from other Crocotile users!
Watch Youtube videos demonstrating Crocotile 3D!
Consider supporting via Patreon!
v.2.1.5 (June 26, 2023)
Added: New Render camera option for Orthographic cameras: "Frustum Adjustment". This allows greater control over how they get rendered. Can be set to "None", "Viewport", or "Base Pixel Unit."
Added: Render camera option to keep pixels unscaled for Orthographic cameras. Set the Frustum Adjustment to "Base Pixel Unit."
Added: Export option to choose between sRGB and Linear color space for vertex colors (for .obj and .dae format).
Added: Resolution input option for gif spin to specify exact size.
Added: Accumulated time spent working on a scene. It will accumulate the time every 5 minutes if new changes have been made. Time is dispayed in lower-right corner of viewport.
Added: "Select/Deselect Tiles using current Tileset" action is now bindable in the Edit > Buttons > Edit mode panel.
Added: "Select Faces within normal range" action now has a pinnable button.
Changed: "Deselect faces within normal range" now can be used via hotkey while hovering over a tile.
Fixed: Pasting a selection in Painting panel would autoselect the Move tool. This was due to changes made in last update related to how keybindings were handled. It should be fixed now though.
Fixed: Exporting .dae files wouldn't keep the object hierarchy structure.
Fixed: Exporting as .gltf/.glb/.dae while editing an object would cause duplicate tiles in the model.
Fixed: Switching tilesets, or selecting new tiles on tileset wouldn't deselect any uv animations currently selected.
Files
Crocotile3D_v2.1.5_macOS.zip
120 MB
Jun 26, 2023
Crocotile3D_v2.1.5_linux32.tar.gz
168 MB
Jun 26, 2023
Crocotile3D_v2.1.5_linux64.tar.gz
155 MB
Jun 26, 2023
Crocotile3D_v2.1.5_ia32.zip
138 MB
Jun 26, 2023
Crocotile3D_v2.1.5_x64.zip
144 MB
Jun 26, 2023