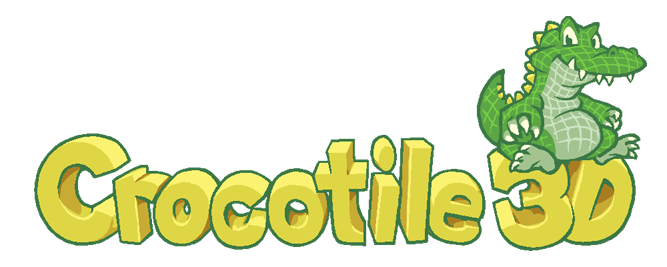 Crocotile 3D
Be sure to read the Howto, to learn all about what you can do!
Join the Discord server to get help from other Crocotile users!
Watch Youtube videos demonstrating Crocotile 3D!
Consider supporting via Patreon!
v.2.1.1 (April 14, 2023)
Added: Bake Lighting/Ambient Occlusion into vertex colors! Check the "Bake Lighting" section of the documentation for more information.
Added: "Add Padding" option in the UVs panel context-menu. Right-click and go to Paint > Add Padding. This will paint around the perimeter of any selected UVs in the UVs panel.
Changed: Subdividing will always subdivide all the selected tiles. Removed the "All selected tiles" option from Subdivide panel since this is by default now.
Fixed: .obj files would import incorrectly if there were trailing spaces at ends of lines (f lines).
Fixed: If a tileset wasn't square, unwrapping/flattening UVs on that tileset would become stretched.
Files
Crocotile3D_v2.1.1_macOS.zip
120 MB
Apr 15, 2023
Crocotile3D_v2.1.1_linux32.tar.gz
Apr 15, 2023
Crocotile3D_v2.1.1_linux64.tar.gz
155 MB
Apr 15, 2023
Crocotile3D_v2.1.1_ia32.zip
138 MB
Apr 15, 2023
Crocotile3D_v2.1.1_x64.zip
144 MB
Apr 15, 2023