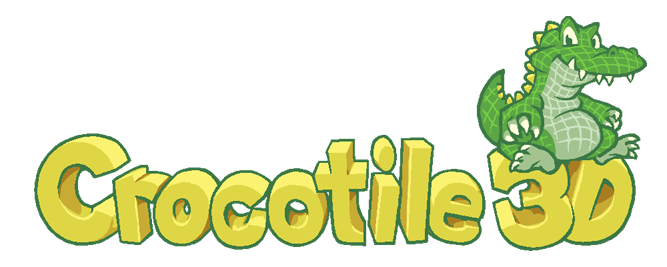 Crocotile 3D
Be sure to read the Howto, to learn all about what you can do!
Join the Discord server to get help from other Crocotile users!
Watch Youtube videos demonstrating Crocotile 3D!
Consider supporting via Patreon!
v.2.0.5 (January 8, 2023)
Added: New action, "Select Faces Facing Camera Axis." Can be accessed via the context-menu while in Edit-mode, or via a keybinding that you can set in the Edit > Buttons > Edit Mode panel.
Added: Export option to set the texture prefix to the project name.
Improved: Edge selection is improved. A pen stylus had trouble selecting edges due to slight movements.
Fixed: Clicking and dragging a vertex was still possible when vertex selection was disabled.
Fixed: Primitive brush wouldn't update when selecting a tile from the Tileset.
Fixed: Pinned prefab next/previous actions wouldn't work when clicking them.
Fixed: Some Primitive shapes didn't take into account the base pixel unit size.
Fixed: Program could not load completely if running an older version and config file contained newer pinned data in it.
Fixed: Due to some previous changes exporting scenes wouldn't apply decal offset to correct tilesets. Should be fixed now.
Fixed: Right-clicking an instance/object in Scene panel would set the prefab brush.
Fixed: Couldn't paint over tiles if the tile had the same UVs but was from a different tileset.
Fixed: Couldn't erase a tile using the Sticky tool if clicking without moving the mouse.
Files
Crocotile3D_v2.0.5_macOS.zip
119 MB
Jan 08, 2023
Crocotile3D_v2.0.5_linux32.tar.gz
160 MB
Jan 08, 2023
Crocotile3D_v2.0.5_linux64.tar.gz
153 MB
Jan 08, 2023
Crocotile3D_v2.0.5_ia32.zip
137 MB
Jan 08, 2023
Crocotile3D_v2.0.5_x64.zip
143 MB
Jan 08, 2023