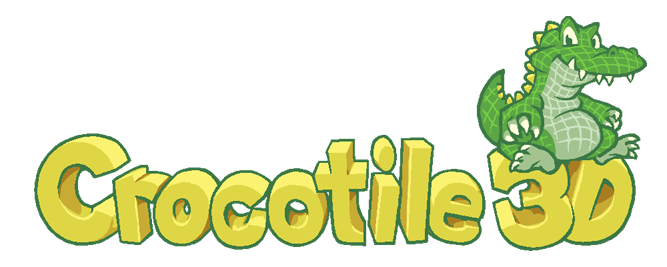 Crocotile 3D
Crocotile 3D v1.8.7 + CrocoJam 3 🍓
---
Hey everyone, there will be another CrocoJam starting on June 1st, through June 7th. You can find more details here:🐊CrocoJam 3🍓 Come join the fun and make some 3d croco!
v.1.8.7 (May 21, 2022)
Added: Polish localization, provided by ZygZagDev! Thank you!
Added: Action to push selection against existing tiles, relative to the cardinal axis of the crosshair that the camera faces. This is useful in cases where you want something to sit flush against a surface, and the surface may not sit exactly on the grid. Press / key to perform the action. You can also rebind it by going to Edit > Buttons > Edit Mode > Push Against. This action can also be accessed in the Transform panel.
Added: Option to keep Sticky tool proportionate to the tile selection. Settings > Draw Mode > Sticky Edge Proportionate.
Added: Lambert material type. Shading is calculated using a Gouraud shading model.
Added: Action to straighten vertices relative to the tile they belong to. This results with the tiles becoming flat, facing the direction of a triangle's face normal or an average of both triangle normals if both vertices are selected. Right-click > Vertices > Straighten relative to their own tiles. You can also assign a shortcut key to this operation: Edit > Buttons > Edit Mode > Straighten relative to their tiles.
Fixed: If a Prefab Object was selected in the Scene panel, it would fail to export gltf objects without embedded textures.
Fixed: Couldn't select collapsed tiles that had an L shape.
Fixed: Using touchpad pinch gesture to zoom would cause entire application to resize.
Remember to report any bugs you may encounter! Check the Gallery to see creations by Crocotile users: http://www.crocotile3d.com/gallery Also, there is a Discord server where Crocotile users can chat: https://discord.gg/fmtJdUb Watch youtube videos demonstration Crocotile 3D: Youtube channel Consider supporting via Patreon!
New Youtube videos on the Crocotile channel:
Files
Crocotile3D_v1.8.7_arm32.tar.gz
116 MB
May 21, 2022
Crocotile3D_v1.8.7_macOS.zip
131 MB
May 21, 2022
Crocotile3D_v1.8.7_linux32.tar.gz
112 MB
May 21, 2022
Crocotile3D_v1.8.7_linux64.tar.gz
108 MB
May 21, 2022
Crocotile3D_v1.8.7_ia32.zip
113 MB
May 21, 2022
Crocotile3D_v1.8.7_x64.zip
117 MB
May 21, 2022