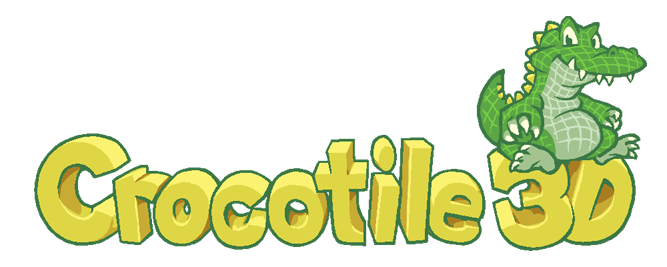 Crocotile 3D
Crocotile 3D v1.8.5 + CrocoJam 🍓
---
Hey everyone, there will be another CrocoJam starting on May 1st, through May 7th.
You can find more details here:🐊CrocoJam🍓
Come join the fun and make some 3d croco!

v.1.8.5 (April 22, 2022)
Added: New effects! Fog, Bloom, and Depth of Field. Go to Edit > Effects, to enable them and set their properties.

Improved: On Mac, it will load default text if it fails to load localization files.

Fixed: "Remove Selected Item" button in Scene panel wouldn't remove Cameras/Lights.

Fixed: Clicking(selecting/deselecing) on vertices wouldn't update the UVs in some cases.

Fixed: Deselecting vertices with Ctrl+D wouldn't update UVs either.

Fixed: Ctrl+A selecting touching vertices wouldn't update UVs either.

Fixed: Exporting would deselect verts/faces and also exit Object Edit Mode.

Fixed: In Orthographic mode, the wireframe/edges would be offset incorrectly and was more noticeable when zoomed in.

Remember to report any bugs you may encounter!

Check the Gallery to see creations by Crocotile users: http://www.crocotile3d.com/gallery
Also, there is a Discord server where Crocotile users can chat: https://discord.gg/fmtJdUb
Watch youtube videos demonstration Crocotile 3D: Youtube channel
Consider supporting via Patreon!
Files
Crocotile3D_v1.8.5_arm32.tar.gz
116 MB
Apr 22, 2022
Crocotile3D_v1.8.5_macOS.zip
131 MB
Apr 22, 2022
Crocotile3D_v1.8.5_linux32.tar.gz
112 MB
Apr 22, 2022
Crocotile3D_v1.8.5_linux64.tar.gz
108 MB
Apr 22, 2022
Crocotile3D_v1.8.5_ia32.zip
113 MB
Apr 22, 2022
Crocotile3D_v1.8.5_x64.zip
117 MB
Apr 22, 2022