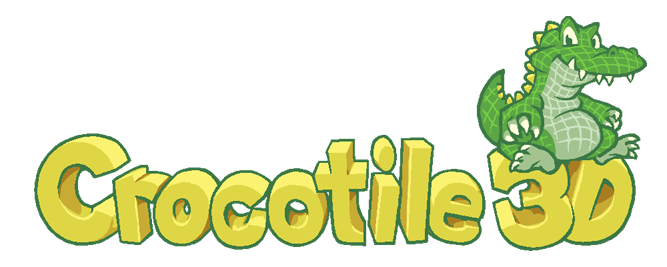 Crocotile 3D
With the previous update, there can now be animated tiles in your scenes! There is a text-based guide that has been uploaded as well, which walks through the entire process of creating a scene in crocotile: Waterfall scene
v.1.8.2 (March 18, 2022)
Added: Key bindings for each gizmo mode, unbound by default. Edit > Buttons > Edit Mode > Gizmo Translate/Rotate/Scale Mode.
Added: Quality setting for spinning Gifs.
Added: Flatten vertex positions/objects against crosshair plane. Keybinding: Alt+P. Also located in Align section of Transform panel. To change the binding goto Edit > Buttons > Edit Mode > Flatten Selection.
Fixed: Applying animated tiles to non-animated tiles that use the same uv coordinates wouldn't be applied while holding Alt and left-clicking.
Fixed: Exporting instances from Instance list would have wrong location if the instance was nested inside others that weren't being exported.
Fixed: Rotating nested instances with Q,E would result with incorrect positions.
Fixed: Decals wouldn't be drawn or erased properly to the scene.
Fixed: Some pinned actions wouldn't display full shortcut when hovering mouse over them.
Fixed: Sometimes selecting a tile from tileset would result with selection having 0 width or 0 height.
Fixed: UV handles wouldn't display if they were slightly outside of view in the panel.
Fixed: Nested instances wouldn't be hidden properly if parent object was hidden via the eye icon in scene panel.
Fixed: After placing an instance with prefab brush, instance became unhighlighted in instance list.
Fixed: Light property inputs took up too much horizontal space in the panel.
Fixed: When Transform panel was open, middle clicking the 3d scene would show the scroll cursor.
Fixed: UV Animations in Theatre panel would loop if loop was set to false.
Fixed: Gif movies wouldn't utilize the quality setting.
Files
Crocotile3D_v1.8.2_arm32.tar.gz
116 MB
Mar 18, 2022
Crocotile3D_v1.8.2_macOS.zip
130 MB
Mar 18, 2022
Crocotile3D_v1.8.2_linux32.tar.gz
112 MB
Mar 18, 2022
Crocotile3D_v1.8.2_linux64.tar.gz
107 MB
Mar 18, 2022
Crocotile3D_v1.8.2_ia32.zip
112 MB
Mar 18, 2022
Crocotile3D_v1.8.2_x64.zip
116 MB
Mar 18, 2022