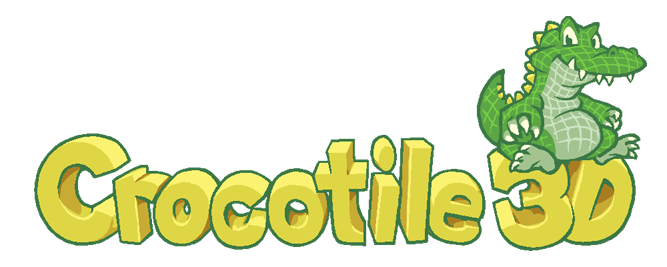 Crocotile 3D
Be sure to read the Howto, to learn all about what you can do!
Join the Discord server to get help from other Crocotile users!
Watch Youtube videos demonstrating Crocotile 3D!
Consider supporting via Patreon!
v.2.0.7 (January 29, 2023)
Added: Tilesets now have a Name property that can be set. These names are now used when exporting so that the texture filenames remain consistent. The names can be set in the tileset's material properties panel.
Added: Double-clicking on tilesets in the tileset list will open their material properties.
Added: Texture Prefix setting now has a "None" option to disable prefixes on the textures. This is set by default, but you can still choose "Custom" or "Project name."
Fixed: Right-clicking the names of items in the Scene panel wouldn't open the context-menus. This bug seemed to have been introduced in a recent version, but it should be fixed now.
Fixed: Importing .c3dp files would sometimes fail to create prefab objects if loading a lot of tilesets.
Fixed: Undoing the importation of a .c3dp file would fail if there was a redo state for adding an instance of it to the scene.
Fixed: Hovering over dropdown menus in the Settings would unfocus input boxes.
Files
Crocotile3D_v2.0.7_macOS.zip
119 MB
Jan 30, 2023
Crocotile3D_v2.0.7_linux32.tar.gz
160 MB
Jan 30, 2023
Crocotile3D_v2.0.7_linux64.tar.gz
153 MB
Jan 30, 2023
Crocotile3D_v2.0.7_ia32.zip
137 MB
Jan 30, 2023
Crocotile3D_v2.0.7_x64.zip
143 MB
Jan 30, 2023