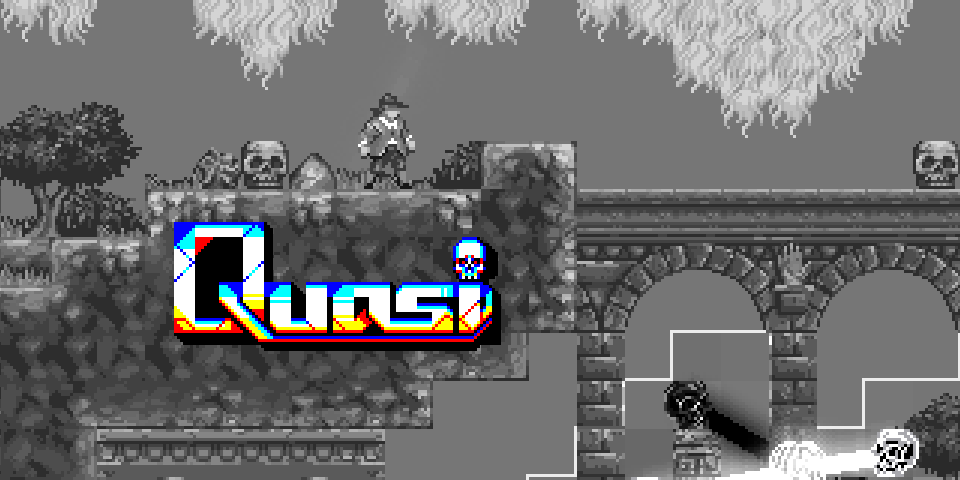 Quasi
A downloadable game for Windows, macOS, and Linux
---
Advisory: This game contains moderate use of elements that flash/flicker. If you are sensitive to this type of visual stimuli, an option in the menu to slow these down can be set. Playing the game is at your own discretion.
---
~~~ Quasi is a side-view platformer adventure with puzzle elements and unique gameplay mechanics. Available for Windows/Mac/Linux!
---
Updates:
Fixed various graphics bugs.
Added restart button(R key).
Fixed a clipping bug.
Changed saving system to save game after each level.
Fixed falling bubble bug after loading saved game.
Fixed bug preventing player from summoning skulls.
Added save game feature. Game will now save after certain key points in the game and will display a message to notify you it has saved. Saved games can be continued from the start screen.
---
Default Controls can be customized in the options menu:
Left, right arrows to move.
Up, down arrows to transform when energized.
Z to jump / Down + Z to jump through platforms.
X to select or use action.
Transformed controls:
Up, down to lengthen/shorten spirit beam.
Left, right to swing/bend.
Z, X to release hold.
Esc for menu
R for restart
More tips are included in the manual.
---
by Alex Hanson-White
---
available for Windows / Mac 10.7+ / Linux
For Linux users, you may have to right click the quasi file and go to properties, then permissions and enable execute permission before it will run.
The following Linux distributions lack libudev.so.0 which is required to run node.webkit apps:
Ubuntu 13.04+
Fedora 18+
Arch
Gentoo
Derivatives of the above
If you are using one of these, you can use the 'B' version that has a stopgap measure applied so that it runs. Doing so is at your own risk though. In the future I will update these files when libudev.so.1 is officially supported.
Download
Click download now to get access to the following files:
Quasi_linux32.tar.gz
42 MB
Quasi_linux32_B.tar.gz
42 MB
Quasi_linux64.tar.gz
40 MB
Quasi_linux64_B.tar.gz
40 MB